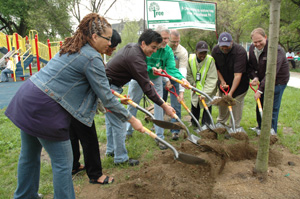 What is the Urban Forestry Network and why is it important to your community? ACTrees works to strengthen community bonds and helps to spread the importance and knowledge of how to care for trees. Partnerships, national alliances and communication between stakeholders are all goals of the Urban Forestry Network. One example is this year's ACTRees Day Nov. 4, 2014 in Charlotte, NC. Learn more and ask questions on #Treechat.
You're Invited to Tweet
Welcome! @CoronaTools invites everyone with an interest in trees to enter the hashtag #Treechat on Twitter. Chat partner and ACTrees Program Manager Anthony Le will be tweeting as @alliancefortrees, along with Allison Paisner, Public Policy student at GWU, and ACTRees Intern. The live chat begins Tuesday, September 30, 2014 at 11 a.m. PST / 2 p.m. EST. This is the Twitter chat were we come together with industry experts and fellow tree tweeps each week to discuss all things related to trees and tree care, since 2010!
Discussion Overview
Find out more on this week's #Treechat
The Mission of the Urban Forestry Network -to build the capacity of our members through webcasts, program management, & networking
Advocacy is one new focus at the local level, the ultimate goal for urban foresters to improve local-regional partnerships
ACTrees Day - Still time to sign up! View the full agenda at http://actrees.org/what-we-do/training-and-conferences/actrees-day/
Keynote speaker @Eric Rutkow will talk about the fascinating relationship between Americans, US development, and trees!
Join the Conversation
Join us for this information-rich topic live on Twitter! Just sign in, search for #treechat and tweet using the hashtag. You're tweets will appear in the live tweet stream and you will be part of the conversation. Be sure to add the hastag to all your tweets or join us in the treechat room on Tweetchat. They will automatically add it for you and it's easy to watch the conversation as it happens!
If you do miss the live chat, you can still access the complete Storify transcript, available 24/7 following the live chat. It includes include all the information and links shared during the discussion.
About Treechat
Connect and share with the green industry leaders live on Twitter and 24/7 to learn and share about hot topics in the green industry. Now treechat is part of the Green Industry Leaders Network (GILN) presented by Corona and its partners. We are an alliance of professional organizations who are advancing the horticulture, tree care, and landscaping industries. Register now to get weekly updates of upcoming chats, links to transcripts, chat reminders and more! Register now on the GILN website!