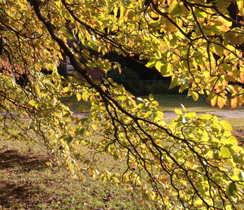 The Arbor Day Foundation's TREE CITY USA program provides direction, assistance and national recognition to local communities by presenting a framework for sustainable urban forests. Small towns, boroughs, townships, big cities, villages and military installations participate in the Tree City USA program, which provides a foundation for tree care or expands innovative community tree programs or projects. Is your community a Tree City USA? Find out and join us for this great topic on #treechat
You're Invited to Tweet
Join @CoronaTools along with chat partner and host, Arbor Day Foundation with Coe Roberts @ArborDay. The live chat begins Tuesday, September 2, 2014 at 11 a.m. PST / 2 p.m. EST. This is the Twitter chat were we come together with industry experts and fellow tree tweeps each week to discuss all things related to trees and tree care, since 2010!
Discussion Overview
Reduce Costs Explore how urban trees help storm water management and erosion control.
Cut Energy Costs - Learn how to cut energy costs by 25% with passive solar management by deciduous trees.
Boost Property Values Understand how trees can increase property values by 7 to 21% with properly placed trees.
Build Stronger Community Ties - Discover the benefits of increasing connections between neighbors and lower crime rates in cities.
Honor Your Community - Hear about Arbor Day's Tree City USA celebrations and recognition of major achievements.
Join the Conversation
Join us for this information-rich topic live on Twitter! Just sign in, search for #treechat and tweet using the hashtag. You're tweets will appear in the live tweet stream and you will be part of the conversation. Be sure to add the hastag to all your tweets or join us in the treechat room on Tweetchat. They will automatically add it for you and it's easy to watch the conversation as it happens!
If you do miss the live chat, you can still access the complete Storify transcript, available 24/7 following the live chat. It includes include all the information and links shared during the discussion.
About Treechat
Connect and share with the green industry leaders live on Twitter and 24/7 to learn and share about hot topics in the green industry. Now treechat is part of the Green Industry Leaders Network (GILN) presented by Corona and its partners. We are an alliance of professional organizations who are advancing the horticulture, tree care, and landscaping industries. Register now to get weekly updates of upcoming chats, links to transcripts, chat reminders and more! Register now on the GILN website!