Step out ahead of your siblings with a gift that recognizes Mom's originality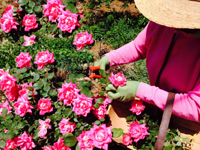 Okay, sure, Mom loves fresh flowers on Mother's Day. Who doesn't enjoy their beauty and fragrant aroma? Will Mom love that you thought about her and all the things she's done for you throughout your life? Of course, but once she tosses those wilted stems, the sentiment you put into them will go out with them!
Become the "Favored Child" this Mother's Day
This Mother's Day why not treat her to something she can use everyday, out in the garden? Garden tools that help her grow flowers all year long while remembering your thoughtful gift each time she uses them. Try sending Mom a new ComfortGEL+ Extendible Bypass Lopper or a Round Point garden shovel from Corona Tools, the gift that lasts a lifetime. Leave your siblings in the dust and let the sibs give her short-lived cut flowers or high-calorie chocolates. Your favored child stauts will shine bright, season after season with hard working tools that makes her life easier, more comfortable and less stress.
Corona Tools has a wide variety of easy to use gardening tools to fit every budget. For example, try the ComfortGEL® Snips or Trowel. Gift-giving is made easy when you order through CoronaToolsUSA.com the recognized source for gardening tools that has shipped more than millions of functional gardening tools to satisfied customers for nearly a century. There's no risk, either, our best-in-class tools are backed by a Limited Lifetime Warranty and many have replaceable parts for longer service life. She will keep her beloved tools forever and remember YOU everytime she uses them.
With so many great tools and ideas for Mom, it's so hard to choose! Tell us what you think your garden mom would love the most! And don't forget to check out our photo contest going on through May 10th on Corona Tools Facebook. Guess the number of flowers in the ComfortGEL Scoop and you could win ComfortGEL tools! 5 winners announced on Saturday, 5/10 at 2PM PST!