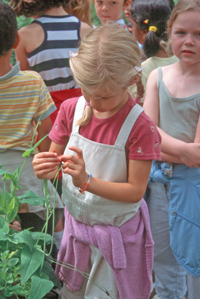 Some are calling the Millennials "Generation Nice." But The Pew Research Center's sequence of reports on millennials found not an entitled generation but a complex and introspective one — with a far higher proportion of nonwhites than its predecessors as well as a greater number of people raised by a single parent. Its members also have weathered many large public traumas: the terrorist attacks of Sept. 11, costly (and unresolved) wars, the Great Recession. Pew reported that the millennial generation is skeptical of institutions — political and religious — and prefers to improvise solutions to the challenges of the moment.
A report by Morley Winograd and Michael Hais titled "How Millennials Could Upend Wall Street and Corporate America" found almost two-thirds (64 percent) of millennials said they would rather make $40,000 a year at a job they love than $100,000 a year at a job they think is boring," the Brookings Institution recently noted in
Join the young Emergents this week to chat about Gardening and entering the Horticultural workplace on #Plantchat!
You're Invited to Tweet
Join @CoronaTools and #plantchat co-partner, Brienne Gluvna Arthur @EmergentPro for this week's topic, Discussing Gardening and Horticulture with Millennials. The live chat begins Monday, August 25, 2014 at 11 a.m. PST / 2 p.m. EST, were we come together with green industry experts and fellow horticultural tweeps each week to discuss all things related to plants and horticulture, since 2014.
Discussion Overview
Gardening and Horticulture with Milliennials - their new favorite passtime
Priorities for Millenials - 64% have stated they prefer making 40K in a job they love vs 100K for a job they don't.
Millennials and the food they eat - Many are conscious about the food they eat, they are more likely to be vegetarian, vegans or gluten free
Skills and Knowedge - Do millennials know how to grow? Do they have horticultural skills?
Gardening in Small Spaces -Houses and properties are smaller
Community Gardening with Millennials -plenty of participation
Join the Conversation
Don't miss out on this exciting topic and join the conversation via Twitter. Just sign into #plantchat with your Twitter ID and you can follow the conversation and share with the community. Be sure to add the hastag to all your tweets or join us in the plantchat room on Tweetchat. They will automatically add it for you and it's easy to watch the conversation as it happens!
If you do miss the live event, you can still access the Storify recap, accessible 24/7 that will be posted following the live chat. The transcript includes all the information and links shared during the discussion.
About Plantchat
Connect and share with the green industry leaders live on Twitter and 24/7 to learn and share about hot topics in the green industry. Now plantchat is part of the Green Industry Leaders Network (GILN) presented by Corona and its partners. We are an alliance of professional organizations who are advancing the horticulture, tree care, and landscaping industries. Register now to get weekly updates of upcoming chats, links to transcripts, chat reminders and more! Register now on the GILN website!