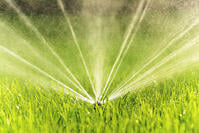 Does your irrigation system give you fits? Let Ewing Irrigation help Troubleshoot on #Landscapechat. Ewing provides landscape, irrigation and golf course professionals with the supplies they need to create healthy, sustainable environments. Founded in 1922 as an irrigation distributor, Ewing's breadth of products has evolved to include water management solutions, agronomic supplies, landscape lighting, water features, hardscape and erosion control. Ewing Irrigation will also share information about their new training classes on irrigation, landscape enhancements, and more.
You're Invited to Tweet
Join @CoronaTools and partner Ewing Irrigation with Director of Education Jeffrey Knight and Social Media & Digital Strategist Laurie Ory tweeting as @EwingIrrigation for #Landscapechat on Wednesday, September 24 at 11 a.m. P.T.or 2 p.m. ET. This is the Twitter chat where we come together with green industry experts and fellow landscape tweeps, each week to discuss all things related to landscape, since 2011.
Discussion Overview
On the live Twitter #Landscapechat find out more answers to these 5 key takeaways for Troubleshooting Irrigation Systems:
Signs of irrigation system issues - tell-tale indicators to watch for
Common problems - learn which are the top 3-5 challenges
Fix-it tips - for do it yourselfers
When to call an irrigation professional -when is the problem is better handled by an expert?
Preparing irrigation systems for winter - Looking forward to fall and winter prep
Join the Conversation
Don't miss out on this exciting topic and join the conversation via Twitter. Just sign into #landscapechat with your Twitter ID and you can follow the conversation and share with the community. Be sure to add the hashtag to all your tweets or join us in the landscapechat room on Tweetchat. They will automatically add it for you and it's easy to watch the conversation as it happens!
If you do miss the live event, you can still access the Storify recap, accessible 24/7 that will be posted following the live chat. The transcript includes all the information and links shared during the discussion.
About Landscapechat
Connect and share with the green industry leaders live on Twitter and 24/7 to learn and share about hot topics in the green industry. Now landscapechat is part of the Green Industry Leaders Network (GILN) presented by Corona and its partners. We are an alliance of professional organizations who are advancing the horticulture, tree care, and landscaping industries. Register now to get weekly updates of upcoming chats, links to transcripts, chat reminders and more! Register now on the GILN website!
Safety meeting photo courtesy of SDCWA